Manage your fleet with professional GPS boat tracking system
Boat tracking system- Prepare your vessels for the sailing season with professional GPS vessels tracking system!
Be ready with boat tracking system!
The sailing season starts with the emergence of spring, and the sea will come alive with countless yachts, boats, sailboats and other vessels. If you have a charter or renting company, one of the main concerns before your fleet sails from the marinas is tracking and managing the boats.
Those concerns are common for service providers and private boat owners. However, if you already don't have a built-in device that can track and monitor your vessel or fleet, professional GPS vessels tracking can solve multiple issues. In addition, hardware and software solution can increase your charter fleet security, organization and even customer experience. Here are some of the reasons you should consider subscribing to GPS Marine vessel tracking.
Contact us to offer you the best solution! | boat tracking system
Professional GPS boat tracking system features
The basic option for any GPS tracker is accurate positioning. GPS Marine offers a real-time position with complete history. In addition, you can upgrade the system with other sensors. Temperature, door sensors, bilge pump, motion and moist are the most frequent upgrade options.
The system can monitor the bilge pump on board and control it by time or location frame. Similarly, other sensors can detect and alarm the changes. For example, you can get a notification if your ship has tilted, the bilge pump is activated, in case of burglary or other unwanted events.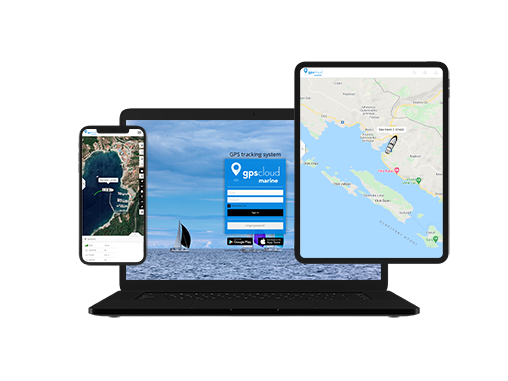 Crucial benefits of Boat Tracking System
With GPS tracking, you will know where your vessel is in real-time, the conditions of the engine, and other parameters of the boat. One solution lets you organize the entire fleet. The system is adjustable and works seamlessly with small and large fleets. You can also use the solution for single ships.
Along with real-time fleet tracking, the GPS Marine solution has modern anti-theft features. All packages include SIM cards with data traffic for European Union. The mobile app allows you to communicate with the center, exchange documents, pictures, and send emergency notifications.
Aside from the security aspects, vessels tracking has advanced organizing abilities. For example, you can mark the routes and locations and look at the history of visited locations and routes within the application.
The application also allows you to monitor battery condition on board with an intuitive graphical display with a notification option if voltage falls below normal. Finally, you can use the mobile or desktop app to remotely block the engine in case of theft, giving precious time to salvage your precious vessel.
Take advantage of attractive prices!
Bottom line | Boat tracking system
GPS Marine vessels tracking solution is available in multiple languages. So if you need all one solution for real-time vessel tracking for the upcoming sailing season, request a quote for GPS Marine. The solution has numerous advanced features like exact geographical location, marking routes and positioning on the map, security notifications connected to hardware sensors on the boat.
Mobile and desktop solution is suitable for more than one fleet due to their hierarchy structure that can be adjustable. You can also use it for small and large vessels fleet, or single boat. Check the location of all types of vessels with a few swipes on your smartphone.
Contact us to offer you the best boat tracking system!